I am not a TV person. My preferred storytelling mediums are books and films: I generally have little patience for TV dramas. Dramas, with their drawn-out, repetitive, convoluted story lines. Dramas, with their over-abundance of births and deaths, marriages and divorces, hookups and breakups, and, well - dramatic things.
The other thing about TV shows is they take such a DARN LONG TIME to watch. 13 one-hour episodes in a season? I could re-read a Jane Austen book in the time it would take me to watch that. In most cases, Jane Austen would win hands-down.
So, there has to be something very special about a show for me to stick with it. Other than that most diverting program chronicling the adventures of a certain inimitable Doctor, the only TV show that I've ever grown significantly attached to is. . . Monarch of the Glen.
For those of you who are not familiar with the show, here's MotG in a nutshell:
Monarch of the Glen was a BBC drama (it went for 7 seasons) set in present-day Scotland. An elderly lord - or laird - and his wife live in a castle on their estate in the Scottish highlands. It is difficult to make a profit out of the land, and for years they have been losing money. Their son, who lives in London, pays a visit to the family home, and is shocked at the state of affairs. Eventually he decides to leave London and move back to Scotland, where he can devote all his time and energy to saving the family's ancestral house and lands, and making them profitable again. He takes the reins from his ageing father, and becomes laird of the estate - and the "monarch of the glen". The son also happens to be quite young and good-looking. Cue numerous "romantic interests".
I don't know what it was - the setting, the characters, the cast - but there was something about Monarch that I found absolutely irresistible.
I LOVE Scotland, and I love the highlands, and the gorgeous landscapes featured in this series, and the houses, and lochs, and EVERYTHING. I WANNA GO TO SCOTLAND!!! Ahem. I must exercise more restraint in my use of the caps lock for the remainder of this post. But seriously, how could you not love a show where THIS is the main setting?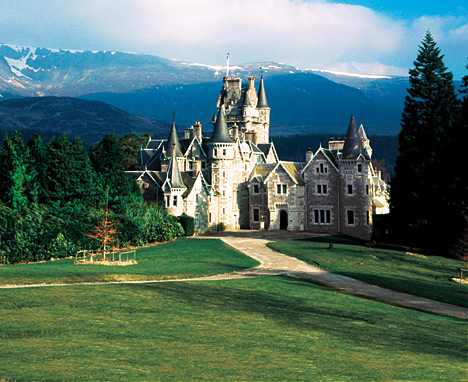 Ardverikie House, "Glenbogle House" in MotG
The fact that my ancestors came from Scotland also helps make the show extra special for me.
I'm moving there one day. To Scotland, I mean, not to the Victorian castle pictured above (unf
ortunately
).
Aside from the beautiful setting, what made this show work was the fantastic chemistry between all of the cast. Scottish actor Alistair Mackenzie was good in the lead role of Archie MacDonald, though I was disappointed with how his character was written in later series. Susan Hampshire was radiant as Archie's mother, Molly; and Richard Briers was excellent as dad, Hector.
One of the highlights of this show, as any "Boglie" will tell you, was Julian Fellowes in his guest appearances as Kilwillie. (Yes, the same Julian Fellowes who has won Oscars and Golden Globes and Emmys and who-knows-what else for his screenplays for Gosford Park and Downton Abbey.)
Dawn Steele was wonderful as cook and housekeeper (of sorts), Lexie. She brought tremendous energy and personality to the role, and had loads of chemistry with Alistair Mackenzie/Archie. In a parallel universe, if I were a much less shy version of myself, I would be a slightly more demure version of Lexie.
The writing of the show was good. In the long term, I didn't like the progression (or lack thereof) of the story arc and characters, but the episodes themselves are tolerably well written, with plenty of humour.
Whilst I would consider myself a fan of MotG, I'll be first to admit that this show had its flaws. Serious flaws. The first series, though not perfect, had plenty of charm, but I felt that the show deteriorated as it progressed through further series. As I said above, I was disappointed with the character and plot development in later seasons. The departure of several core cast members didn't help, either.
So, while Monarch of the Glen didn't live up to its potential, it still remained enough charm, enough of that magic "something" to make me persevere with the show. I am still working my way through it, having started the beginning of the first series sometime last year. I'm now up to the fourth series. I go on a Monarch binge whenever I get sick and want to watch something comforting and not too demanding. For 45 minutes of charming escapism, nothing beats an episode of Monarch of the Glen.
MotG is a "family" show, but parents should take the PG rating seriously. One of the few things that bothers me about this series, from a moral perspective, is that it is implied - and accepted as normal - that couples sleep together before marriage. I know it's only a true reflection of our culture, but it bothered me nonetheless. . .
So - I thought that I'd share this post, since I think many of my gentle readers would appreciate this - er - gentle show. Get it from your library if you can. I understand the Region 1 DVDs retain the original 16:9 (widescreen) screen ratio, so if you're in North America - lucky you! And if you can't get access to the DVDs, there is always Youtube.
I should also mention that Monarch of the Glen was loosely - emphasis on loosely - based upon Compton Mackenzies' Highland novels. The books are, I understand, very different from the series, and are set in the 1940s, when they were written. I haven't read the books, but I'm keen to give them a look. If they have half the charm and humour of the series, they should be worth reading.
If you've seen any of the show, let me know what you thought. If you're a more-or-less rabid fan, like yours truly, please introduce yourself! And to the uninitiated, if I've inspired you to give MotG a try, please tell me what you think of it afterwards.
And please share any favourite TV shows that you're particularly fond of! Any suggestions for things that you think I might enjoy?
I've just realised I've said the word "please" three times in about three sentences. Oh so what, I'm just trying to be polite, and I'm too tired to edit and rewrite any longer. Goodnight world!