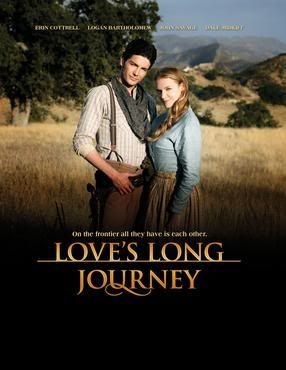 If you're a fan of the
Little House on the Prairie
books or tv series, or if you enjoy reading Janette Oke's novels, you'll probably like the
Love Comes Softly
movies. [Loosely] based on the
Love Comes Softly
series of books by Oke, they follow the story of the Clark family in 19th century pioneer America.
Love's Long Journey, the third movie in the series, tells of the adventure newlyweds Missie and Willie LaHaye undertook when they left their families and the place of their upbringing to pursue a new life in the West. 
The plot may sound familiar and predictable, but it's quite a sweet story, and is suitable for the whole family to enjoy. There are a couple of scary scenes with some violence, but other than that I can't remember anything objectionable.
Love's Long Journey will be telecast across Australia on Channel Seven at 12 noon on Monday 3 of November.
The next movie in the series, Love's Abiding Joy, will air two days later, on Wednesday 5 Nov.
For those of you who don't live in Australia, you can watch Love's Long Journey on Youtube, or better yet, buy the dvd!