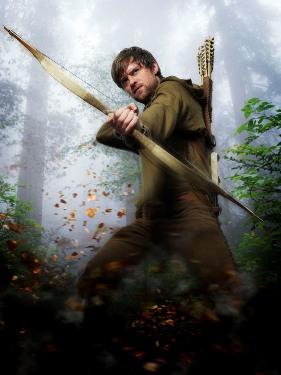 If you're a fan of the BBC's Robin Hood series, it's being telecast in Australia on ABC2 starting this Saturday (21st Oct.) at 6:30 p.m. Click here to view tv guide. It's going back to the beginning and starting with the first episode of the first series, so if you missed the first series (like we did), you could catch up now. If you haven't seen any of Robin Hood, give it a look - it comes as bit of a shock at first, seeing 21st century-isms and medievalism collide, but really it's a lot of fun and it has a good heart.
Castles, swordfights, dark forests, Richard Armitage. . . that's right, North and South fans, only this time John Thornton aka Mr. Armitage wears heaps of black leather and he's a baddie! It took me a while to get used to seeing RA as a villain rather than the hero, but thankfully he's equally good whether he's playing a cotton mill owner or an evil medieval knight.

Many thanks to my eagle-eyed brother, who happened to spot Robin Hood in the tv guide . . .