Collecting period drama pictures from various corners of the web has become something of a hobby for me. The reason for this being that the pictures are just. So. Gorgeous! One could (in fact, one often does) spend hours drooling over the beautiful costumes, houses, landscapes, and people.
Many costume drama pictures are small works of art in themselves. As I am sure most of you are well aware, whenever I do a post on a period film, I use it as an excuse to share as many images as I can possibly cram into one post. This time I have no such excuse. This is simply a messy, mish-mash costume drama picspam, featuring a few of my favourites. The following are symphonies in light, colour, and texture! Elise, stop waxing poetical and get on with the pictures. . .
And just as a disclaimer, I do not whole-heartedly endorse every film in mentioned in this post. A couple of these films contain fast-forward-able scenes.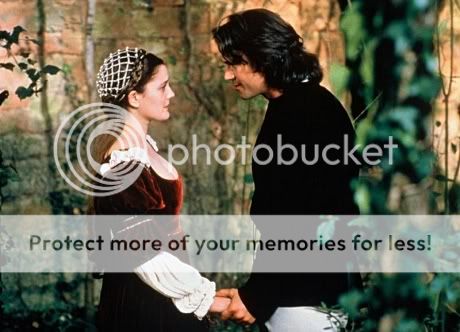 I love Drew Barrymore's red velvet dress. She really is a timeless beauty. Also, her character in this film is one of the few (that I know of) in period drama to have hair that is nearly as long as mine. :P Yay for lasses with long tresses! (Ever After 1998)
Bleakly beautiful. (Persuasion 2007)
Because it's so delightfully English! This could be a scene from any one of Georgette Heyer's novels. (Emma 1996)
Well, I had to include at least one pic of my favourite literary hero. ;-) Why does he does he have to be a fictional character? Why??! (Northanger Abbey 2007)
Very Monet-esque. By the way, if anyone could tell me where I can obtain high-res non-watermarked pics from this film I would be very grateful. (The Magic of Ordinary Days 2005)
An interior shot for a change. I love the warm, rich tones in this picture. (The Illusionist 2007)
Beautiful Liv Tyler. (Onegin 1999)
ANY still from this movie could easily have featured in this post. Italy. . . Helena Bonham Carter. . . Scumptious Edwardian costumes. I love how the personality of each character is conveyed in this picture. (A Room with a View 1985)
The dress and the field of wildflowers were made for each other (quite literally, no doubt). (Marie Antoinette 2006)
I loved Cecily's Pre-Raphaelite inspired daydream sequences. :-) (The Importance of Being Earnest 2002)
Once again, any picture from this movie could have been in this post. This one is very moody and gothic, and strongly remiscent of Andrew Wyeth's
Christina's World
. (Tess of the D'Urbervilles 2008)
One of my favourite movies. (Enchanted April 1992)
I suppose I'd better stop now. Part 2 will quite possibly be coming very soon. By the way, I hope you don't mind a post featuring mostly pictures, rather than writing. I've been suffering from a spot of writer's block lately.