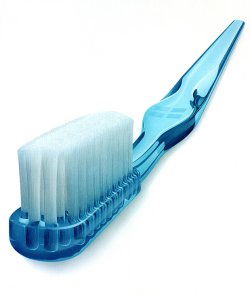 . . . not!
Over the last few days I've kept telling myself, "You should be grateful that there ARE dentists. You are very lucky that you don't live in the middle ages when there was no such thing as dentistry. As you got older you would have had rotting teeth with no-one to pull them out except some lunatic at the town fair. [Incidentally, did you know that medieval tooth-pullers would hire musicians to play loud music outside their stand in the fair/marketplace so that passers-by wouldn't hear the screams of their 'patients' having their teeth yanked out! Yeeouch!!] You should consider yourself lucky, my dear, that you live in the 21st century where there are such things as dentists, toothbrushes and dental floss in existence." 
Unfortunately, these thoughts were not very consoling to me. I did not entirely succeed in convincing myself that going for a dental checkup was a good thing.
Well, I went this afternoon, and ended up walking out from the clinic alive and well. Don't get me wrong, I like the dentists themselves. Dentists are excellent people. I just don't like the things that they do to you. . . 
I didn't leave empty-handed. They gave me a bag of various tooth-cleaning things - toothbrush, toothpaste, floss, and two disclosing tablets. These are brightly coloured tablets that you chew. They cause any plaque on your teeth to turn a revolting bright pinky-red colour. The idea is to help you see where you have/have not cleaned your teeth properly. The tablets came with this message attached:
CHEW ONE TABLET AND SWISH AROUND MOUTH FOR 30 SECONDS, SPIT OUT, RINSE GENTLY WITH WATER. EXAMINE TEETH IN GOOD LIGHT. FOOD DEBRIS, BACTERIAL PLAQUE AND POORLY CLEANED AREAS WILL STAIN BRIGHT RED. BRUSH THOROUGHLY TO REMOVE STAINED  TEETH.
LOL! Oh that made me smile . . . going to the dentist's was worth it after all. :-)