~No. 2 - Pride and Prejudice 2005~
First, a disclaimer. This is a list of own personal 10 favourite Austen adaptations - it isn't supposed to be a list of the 10 best Austen movies. Then again, there's really no such thing as a list of the ten best Austen adaptations. Such a list would always be subjective. All anyone can ever do is list their own personal "best" Austen films, which is what I'm doing here anyway. . . 
Okay: why is this interpretation of Pride and Prejudice my favourite? 
Fish out of water. . . poor ol' Mr. Darcy
Firstly, Matthew MacFadyen's interpretation of that Fitzwilliam Darcy is, in my opinion, better than that of any other actor to have taken on this role. Some Janeites have complained that Matthew plays Darcy as "shy" rather than "proud". Personally, I think it's pretty clear from the text of P&P that Darcy's haughty exterior is the result of a combination of pride and social ineptness - "shyness". I thought MacFadyen's portrayal of Darcy was spot on.
Love the light in this scene. . . LOL, look at the little dog! I never noticed him before
I think there's more "life" in this adaptation than in any of the other screen interpretations - probably partly because of Joe Wright's direction, and partly because of the youthful cast. This is one of the few Austen adaptations I can think of where the main characters are actually the ages they're supposed to be - from the five Bennet girls, to Mr. Darcy, Mr. Wickham, and Mr. Bingley. 
Kitty Bennet (Carey Mulligan), Mrs. Bennet (Brenda Blethyn) and Lydia Bennet (Jena Malone)
The only characters who looked too "old" were the Gardiners and Donald Sutherland as Mr. Bennet, and since their appearances onscreen were relatively brief, this wasn't a big issue. The younger Bennet sisters looked and behaved like the giggly, hormonal teenagers they're supposed to be! Lizzy was portrayed as a very young woman, with a lot to learn about herself and the world. Mr. Darcy was shown as a vulnerable, serious young man, perhaps not quite comfortable in his own shoes, and still coming to terms with himself and his responsibilities.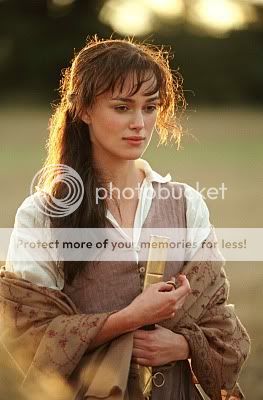 Keira is so beautiful in this movie. . . 
I'll be the first to admit that P&P 2005 has its faults. The omission of various characters and scenes from the novel is one of the most obvious downsides, but considering that they only had two hours to work with here, I think they did a brilliant job. It didn't feel overly rushed to me. I've read the novel so many times, I can fill in the scenes and dialogue that are missing with my imagination. :-)
What bothered me more than the two hour runtime were the various glaringly historically improbable scenes and situations that popped up through the course of the movie - such as Mr. Bingley walking into Jane's room to check on her when she is ill (why? just why??). Then there was Mr. Darcy proposing to Elizabeth in pouring rain in the middle of Stourhead Gardens. Though I have to confess I didn't mind that alteration so much. :-) Seriously, it wasn't much more silly or historically inaccurate than Darcy casually going for a swim in the lake before bumping into Elizabeth in P&P95. Another destination to add to the "Places I've got to visit to see when I go to England" in Stourhead. 
The second proposal scene was too mushy, I'll admit. And the U.S. alternate ending, ditto. But I'm such a hopeless romantic, I didn't really mind *sheepish grin*. . . 
Finally, I believe that one of the main purposes a literary adaptation should serve is to bring to light certain aspects of the book that you may not have thought about before. A film adaptation shouldn't try to be a replacement for the source text - rather, it should complement the novel. And above all, it should make you want to read (or re-read) the book upon which it is based! For me, P&P05 fulfills all the above criteria.
Keira Knightley with director Joe Wright
I can't wrap up this review without mentioning the wonderful artistic vision lent to this film by director Joe Wright - not to mention the gorgeous piano-based score by Dario Marianelli. I'm well aware that stunning visuals and a nice soundtrack do not a good movie make, but they certainly don't do any harm!!
What more is there to be said? I can't convince you to like P&P 2005 better than you do already, I can only try to state my reasons for liking it myself!
Love this moment of the film. . .
Pride and Prejudice 2005 may not be the "best" P&P (though that in itself is debatable - see my disclaimer), but it is my P&P. In spite of its imperfections, this is the movie version that manages to encapsulate what P&P is all about - for me, anyway. When I'm need of a dose of P&P (something that occurs at least once every few weeks) and I don't have time to read the book, this is the version I turn to.
Exhilarating. . . one of the most breathtaking scenes in the movie